The Best Legal Advice:
When you or someone you care about wants excellent legal representation from a quality Personal Injury Family Law attorney to assist with your Auto Accident, Motorcycle Accident, Dog Bite, Slip-and-Fall, Medical Malpractice, Divorce, Child Custody, or Child Support matter, Samuels Law Group PLC is here to serve you!
Our team is committed to extreme customer service and outstanding results. We work to carefully craft the finest legal strategy and pursue the best course of action which is both economical and practical! When you're seeking the best possible result with your insurance claim, we will listen to you, investigate liability and available coverages, and guide you with sincerity and honesty. Are you struggling to secure a fair insurance settlement? Call or text us today!
Do you need legal representation regarding a Family Law matter, such as Divorce, Child Custody, Child Support, or other Family Law issue? We can help! We approach Family Law matters with integrity, and value the best interests of our clients and their families, above all else. We handle varied Family Law matters, including Spousal Maintenance (Alimony), Division of Assets and Debts in Divorce, Business Valuation, Parenting Time (Visitation), and Legal Decision Making (Legal Custody). We will seek the most efficient solution and stand by your side each step of the way!
Contact Us Today! Call or Text: 480-565-2000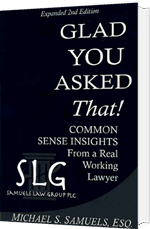 Download our FREE ebook: Glad You Asked That!
Common Sense Insights from a Real Working Lawyer